Thursday, August 13, 2015
Supreme Court Justice Ruth Bader Ginsburg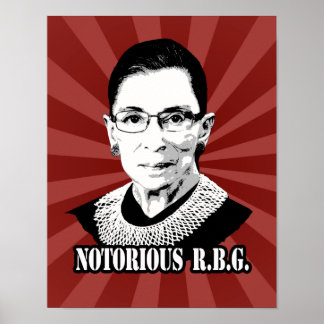 This week marks the 22nd anniversary of the swearing in of national treasure and Supreme Court Justice Ruth Bader Ginsburg! This extraordinary person is #1 in our hearts, and in the history books. A trailblazer for women in the law profession, Ginsburg was the
first
female member of the Harvard Law Review, before transferring to Columbia School of Law, where she graduated
first
in her class. Also at Columbia, she was the
first
female tenured professor. Justice Ginsburg was appointed to the Supreme Court by President Bill Clinton in 1993, and confirmed by the Senate 96-3. She is the second woman to be appointed to the United States Supreme Court and the
first
Jewish woman.
Women and men have Justice Ginsburg to thank for much of the country's social progress in the last twenty years, including, but not limited to same-sex marriage, universal healthcare, and widowers' equal access to social security benefits.
Older generations know of Justice Ginsburg's longstanding dedication to women's rights and gender equality, but in recent years, she has taken on a celebrity status in pop culture as a feminist icon, inspiring a clothing line, and tumblr.
This country is forever indebted to RBG for the infinite good her legal mind has inspired.
Posted by

MWPC
at 1:26 PM